Its your turn in the spotlight...
Tell us what you think about us, our performances, our website or anything else you want to sound off about.
Sorry... we are currently having technical difficulties with the guest book... try again another time.
Go to our guestbook • view or sign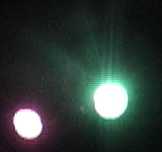 When you visit, let us know what Beefheart material you would especially like to hear us perform.
Here's a list of what we are currently performing and currently working on.
What should we add to the list?